Calendar printing is one of the best ways to promote your brand as it enables to expand your reach exponentially since, hundreds or thousands of people will see it in their home, office or car each and every day. That's why businesses give away free calendars to customers. When you compare it in terms of brand reach to the cost involved you will come to see that its one of the least expensive ways to promote business.

Calendar Printing Services that we offer comprise of highly efficient and cost effective calendar printing solutions that are available in standard as well as in customized finish specifications. Desk calendars, Wall calendar, Pocket calendars, Single sheet calendars are some of the common types that we cater. The use of modern equipments and skilled professionals with over 30 years of experience in the field enables us to provide optimum finish.

We have sophisticated printers that result in supreme graphic designs within budget. We offer 4 colors based printing on glossy as well as matte paper in customized sizes and designs in accordance with customer needs and requirements. Calendars are printed in attractive styles, eye catching designs/patterns and stylish fonts in both single page and multi-page format. Moreover, these calendars can be stitched, threaded or provided with spiral binding, depending upon your preference.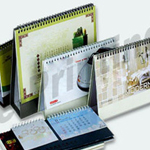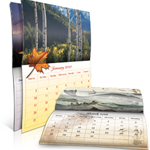 All Rights Reserved © Sudana Printers