Biodegradable food packaging is now widely used and is available in a multitude of standard and custom products to promote a cleaner environment; we offer food service packaging, ranging from compostable and biodegradable to recyclable packaging and supplies.

We are Eco-friendly, Biodegradable food packaging manufacturers and offer packaging solutions from 100% organic material which are produced using an energy efficient process and are commonly used as single-use disposables and packaging including deli containers, catering trays, cutlery, plates, bowls and cups are composed of renewable resources such as corn, tapioca and potato starch.

We offer biodegradable food packaging for on and offsite catering operations and other food service establishments that want to keep their business operations green without compromising on quality. Being leader in the category of disposables means connecting people and ecology. By understanding the issues and giving efficient solutions. We are committed to the cause of environmental protection and adhere to the principles of improvement of the ecology coupling with the development of the society and executing stringent packaging solutions.

This requires shifting our mentality towards zero waste, creating products that not only promise but are really useful for us. We possess advanced production equipment and highly efficient production lines, ensuring a continuous supply of quality products to our clients and consumers.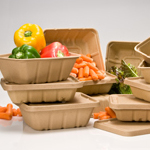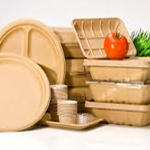 All Rights Reserved © Sudana Printers